The Heart of Gilda's
Gilda's Club is a place where anyone whose life has been impacted by any type of cancer, as well as their families and friends, can feel they are part of a welcoming community of support. Join us and help us prove that Community is Stronger Than Cancer.
Who is Gilda?
Our namesake, Gilda Radner, was one of the original cast members of "Saturday Night Live." Throughout her time on the show, she created a number of enduring characters, including Roseanne Roseannadanna, Emily Litella and Lisa Loopner. Laughter and love were central themes of Gilda's career and life, including in her marriage to actor and comedian Gene Wilder, the original Willy Wonka.
Gilda was diagnosed with ovarian cancer in 1985. She said that having cancer gave her membership in an elite club she'd rather not belong to. She passed away in 1989, but her legacy lived on when her husband and friends established Gilda's Club and the first red door opened in New York City.
The Gilda's Club Chicago Mission Statement
Gilda's Club Chicago uplifts and strengthens people impacted by cancer by providing support,
fostering compassionate communities, and breaking down barriers to care.
Our larger community
In July 2009, The Wellness Community and Gilda's Club Worldwide joined forces to become the Cancer Support Community. By helping to complete the cancer care plan, CSC optimizes patient care by providing essential, but often overlooked, services including support groups, counseling, education and healthy lifestyle programs. Today, CSC provides the highest quality emotional and social support through a network of more than 50 local affiliates, 100 satellite locations and online. Our mission is to ensure that all people impacted by cancer are empowered by knowledge, strengthened by action and sustained by community. Learn more about the
Cancer Support Community
.
Beyond the Red Door
Gilda's Club Chicago offers monthly networking groups at churches and clinics throughout Chicago. We frequently attend community events and speak with groups at health fairs, churches, schools, offices and other locations to help others better understand how to help those living with cancer.
Learn more about Gilda's Club in the community.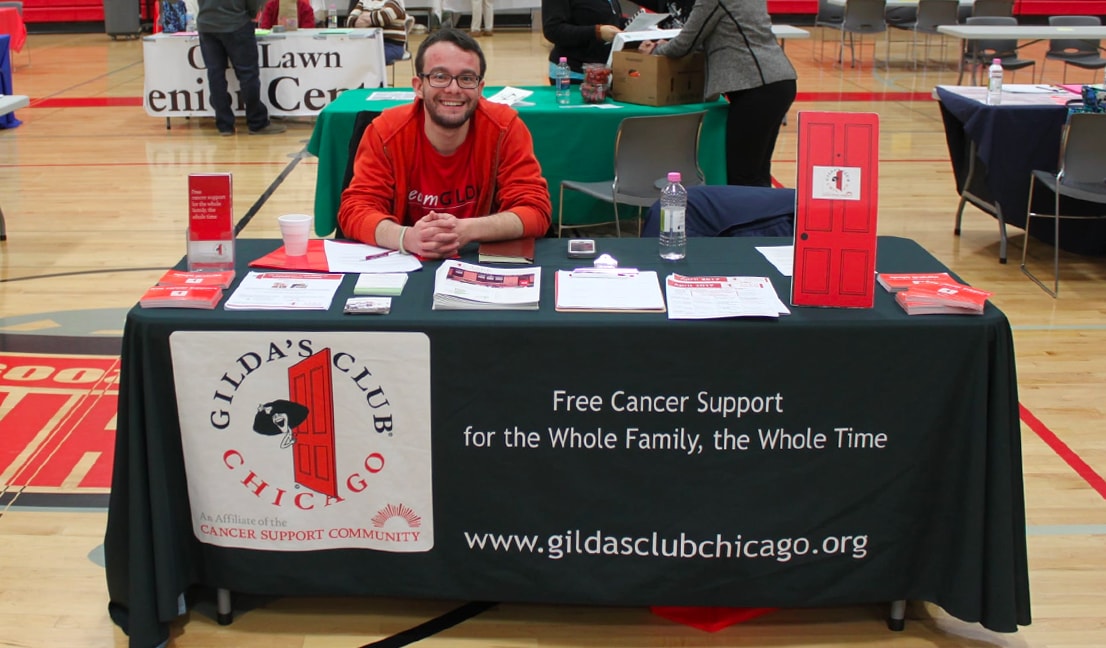 Our support of inclusion and equity for all
We believe in equity for all, including in health care, and fight every day to ensure that all people are treated with dignity and respect and have the opportunity to live healthy and safe lives — physically, mentally, and emotionally.
We commit to listen, educate ourselves, and stand in solidarity with communities of color in these challenging times. We will create and maintain a climate of inclusion. We will hold our leaders, policymakers, and those in positions of power accountable with the expectation and conviction that these measures will end the inequalities we struggle with today and ensure that the opportunity to lead healthy and safe lives is within reach for all of us.